Mein Puppenhaustraum
Dollhouses and Miniatures
---
Puppenhäuser faszinierten mich schon seit langem. 1993 war es dann soweit, ich konnte der Versuchung nicht länger widerstehen. Eigentlich wollte ich - aus Platzgründen - nur ein Zimmer in einem Schaukasten einrichten; aber wie es so geht: es gab von Mini-Mundus so viele schöne Möbelbausätze und so ist es doch das "Wandhaus mit offenem Giebel" geworden.
Komm´ doch herein und schau´ Dich in aller Ruhe um. Ich hoffe, es gefällt Dir hier.
---
I was fascinated by dollhouses since I don't know when. But I didn't start building my own before 1993. At first I planned one room in a roombox. I thought I'd lack space for a complete house. But there were sooo many beautiful furniture kits from Mini-Mundus...I finally decided to build the "Wandhaus mit offenem Giebel".
Please come in and take a look around. I hope you enjoy your visit.
---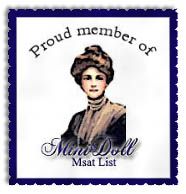 Zum Anmelden auf das Logo klicken!/Click on the logo to join!